Oh, Tennessee!
Hearing the lovely voice say "Welcome to Tennessee" made me feel great, even though I was filled with conflicting feelings. I believe this is the first time I've actually set foot in the state. While I was once in West Memphis, that's actually in Arkansas. It was on a bus trip when I was much younger so if I did enter the state, I was in a moving vehicle and that doesn't really count. But that's a big "if." The courthouse was not my first stop, but I got there and would you look at it! What a building! Have you ever seen anything more lovely in your life?
The statuary alone put me into spasms of joy! Unfortunately, I didn't get the other two of the set that are here because my time was very much limited. As you might be able to tell from the first photo, the sun was getting low, low enough that I ended up having to move on much faster than I had expected. As I mentioned before, this was not my first stop. My first stop in Memphis was probably pretty obvious and on the nose. It was, of course…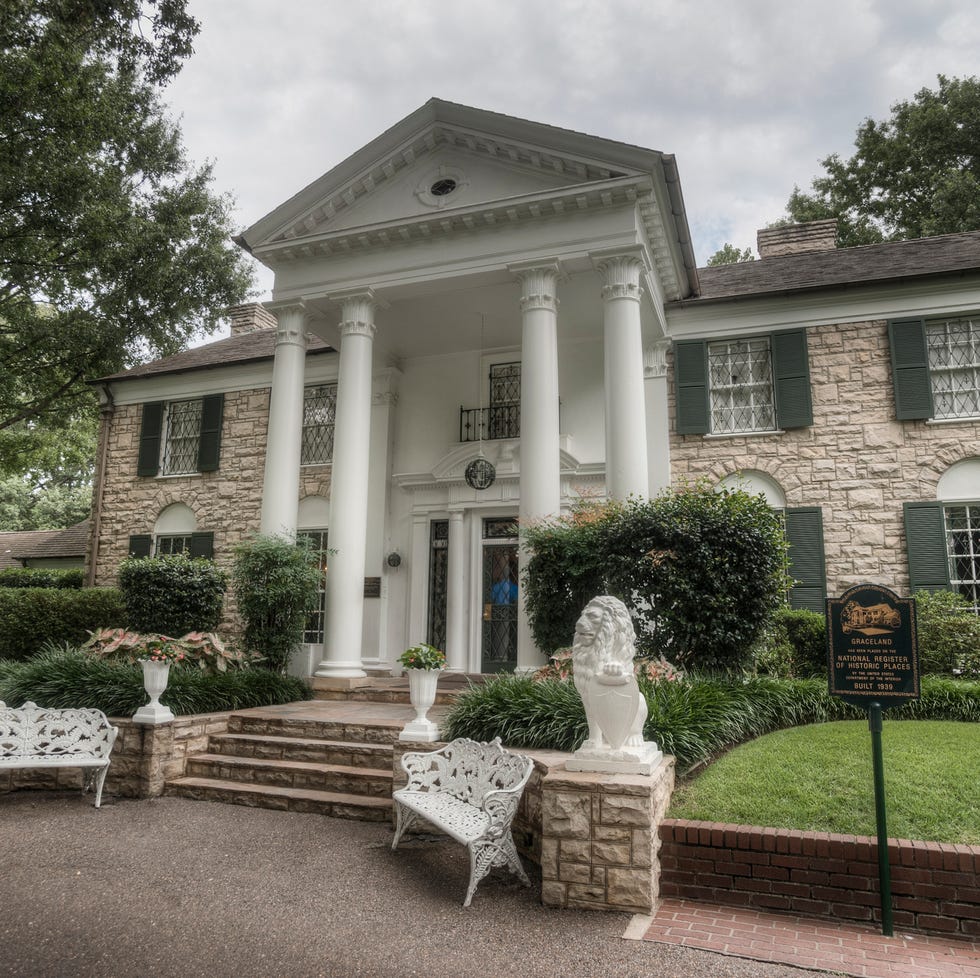 …Graceland. Note, however, that the photo is not mine. Why not? Because I didn't get this close. You see, there was a virtual there that I thought would be the perfect first cache in Tennessee. So I drove to the gates and learned that they wanted $45 to enter.
Forty-five dollars? I apologize for my language here, but BLANK that. I would have liked to have found an Elvis based cache, but not $45 worth of like! Here's the thing: I'm not exactly in the Public Enemy camp on him, but I am most certainly not his biggest fan. While he has a few decent things to his name, I don't really care one way or another about his music. It was done so much better by Big Mama Thornton and Sister Rosetta Tharpe and any number of black performers who I have never even heard of. The best thing to his credit as far as I'm concerned is that early on he willingly admitted that his music started with a lot of those performers and never shied away from that fact. Very much to his credit, but again not $45 worth of credit. If it had been $20, I probably would have done it because I've blown that much on dumber stuff than that. But there was no way I was going to spend that kind of money. At least, not on this trip. Maybe one day if my rabid Patreon fans insist, I might stop in on the way to somewhere else (fun fact: I have no Patreon and only mildly amused fans at best), but you're going to have to wait a while before I write on that wall. Still needed to grab a cache, though. So I looked at the map and noticed that there was a different virtual that was the highest favorited cache in the city, and not a new virtual like Graceland, but an old virtual! I had to cross town in the hopes I could hit it before it got dark, but I made it.
In the middle of a cemetery (because there's always a cemetery) stood The Grotto. I didn't even photograph the pool and two or three other parts of the entire thing, but the big feature is the Crystal Grotto Shrine.
I'm not a religious man, but wow. I can't even fathom how this was even made (and this quartz "cave" was man-made). And, it being a cemetery, it's filled with religious art and displays. Apparently the entire thing was dug out during the Depression and then the artist managed to cover in the entire interior with quartz. Nobody knows how he did it though because he was so paranoid of his methods being stolen that he destroyed the materials he used to construct it. I know this much… I'm definitely coming back through here on the way somewhere else. Not only do I want to get more photos of the exterior when I'm not losing the light, but I missed that across the road was the grave of Isaac Hayes.
But time was not on my side. The sun was going down and I had to hurry up and get some sleep. Beale Street and Sun Records would just have to wait for another day (and there is little doubt I will pass through here again). The next day was going to be busy as all get out. In fact, I was up well before dawn. I took the opportunity to snag a traditional while I was here in Memphis, then I slipped back down into DeSoto County to grab an easy one before making my way through West Memphis (holy crap, that pyramid!) to…